Signage – visual information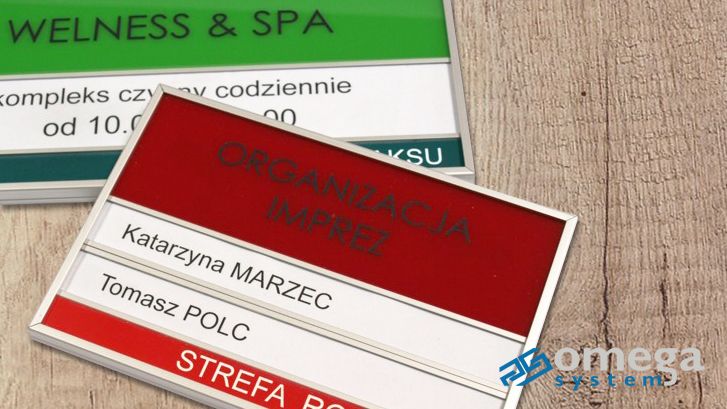 Each building with informative or commercial function needs signage. Information regarding what is there and where it is make it easier for potential visitors and customers to reach our products and services. The principle is explicit and clear message, still you cannot forget about attractive form, especiallyif you also want to achieve advertising effect. Omega System offers a wide range of products for signing interiors and surfaces outside buildings. Our priority is good looks, clarity and the best quality of workmanship.
Omega System SIGNS – signage system for building interiors
Profiles of Omega System SIGNS were created with intention to invent your own information boards and plates. Their dimensions and layout depend on preferences and needs of their users.
The system includes main boards with replaceable information panels or with permanent information and information plates, available in various patterns – Next and Colour plates with replaceable panels and Point and Distant plates with replaceable information in a larger format. Information plates may be used as: next-to-door, suspended, side – so called "semaphores"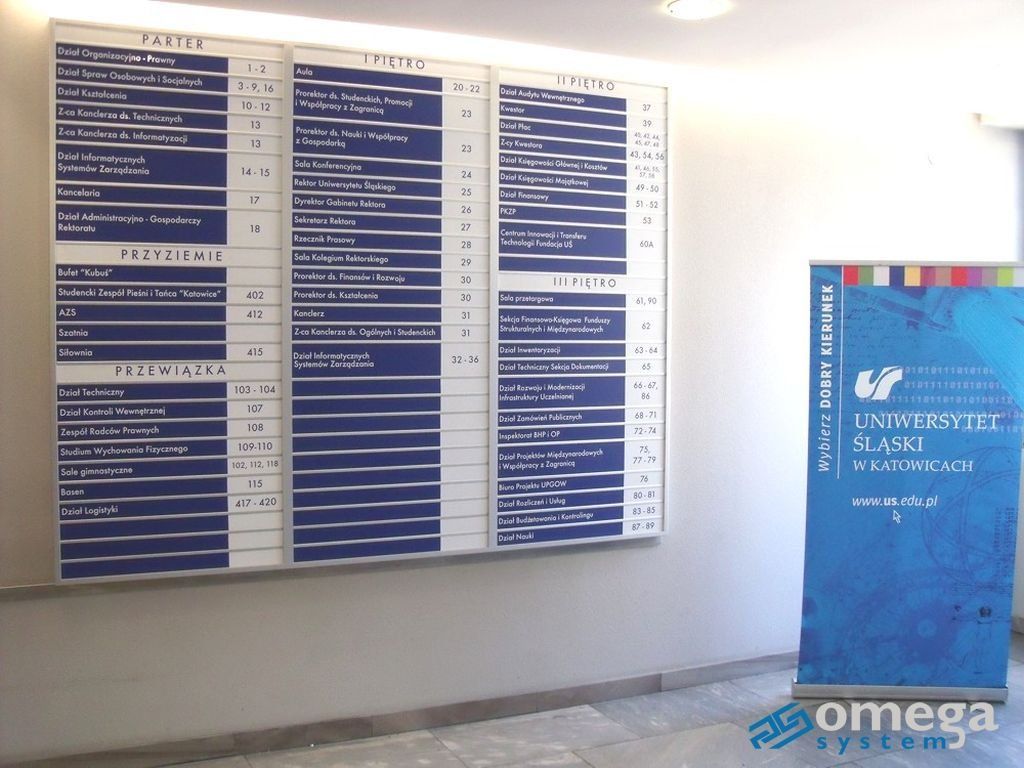 The basic part of information plates construction is aluminium profiles. Our key innovation used in that product consist in the fact that profiles may be ordered with any filler. Thanks to that, boards can be adapted to any interior and to any situation. They will also be perfect both in modern arrangements and in historical castles.
Construction of most boards enables quick and easy replacement of information panels. In all models you can choose colour, form or font typeface. We also adapt dimensions of boards to customers' needs.
What is worth highlighting is engraved plates, laminated, whose advantage is cleanliness and quality of workmanship and material. Our boards may also be used in non-standard applications – such as key rings, plates for the desk or door numbers.
The range of models of Omega System boards we have in our offer is extremely wide. We prepared a few basic board lines, within which there is a possibility to choose certain types, e.g. next-to-door plates, pictograms, side boards – suspended and wall.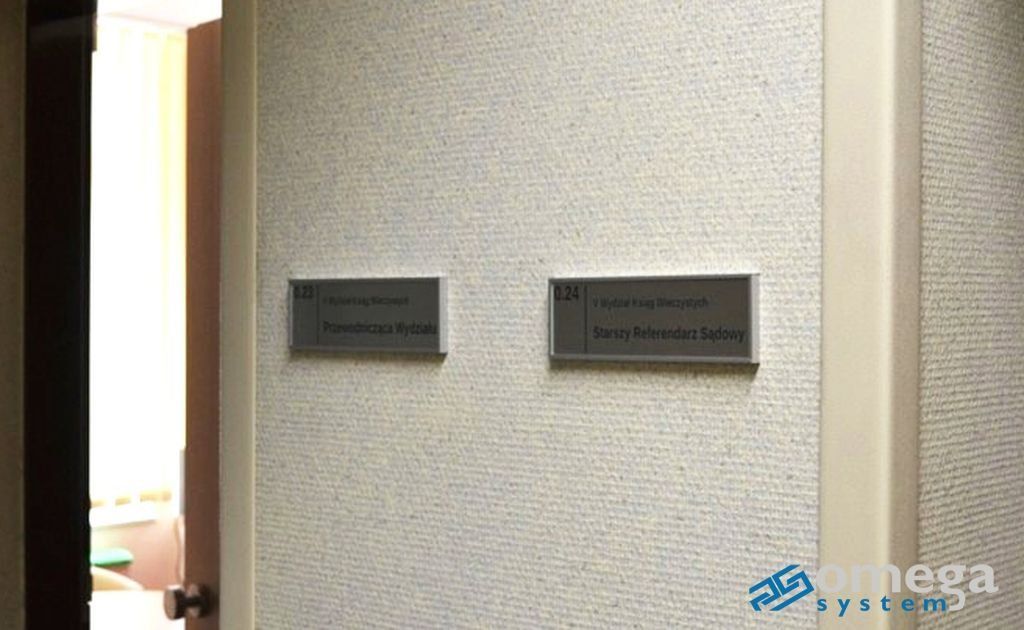 PYLONS
Pylons are extremely efficient and at the same time modern carriers of information and advertisements. Due to large size, they are great at catching the eye of potential clients. You simply cannot walk past them without noticing.
Omega System offers pylons that are great both for outdoor expositions as well as inside buildings. They are made of elegant, oval aluminium profiles, filled with composite or other boards, depending on customer's wish. Possibility of one- or two-sided exposition makes them virtually all-purpose. A part of pylons is equipped with a computer module for pictures or film projection. They all may be extra equipped with lighting, frames for exposition of graphics or shelves for leaflets.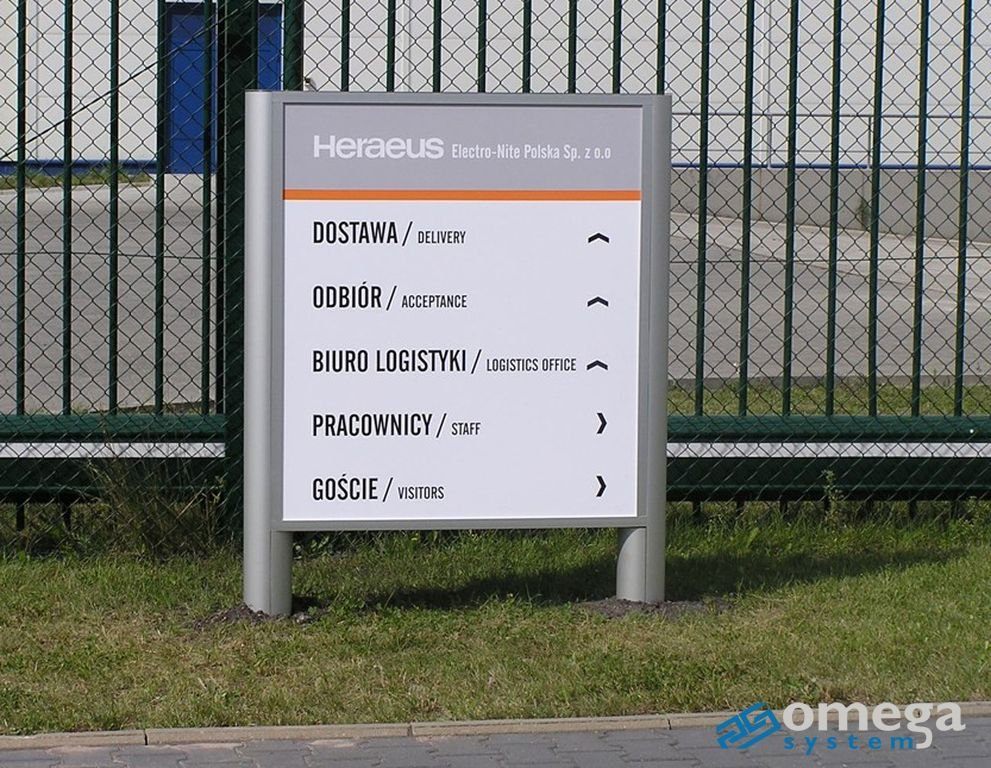 ADVERTISING LIGHT-BOXES
Light-boxes are a kind of wall advertisement, usually lit from the inside. Omega System light-boxes enable graphics exchange and they give the access to the inside of the construction from the front of the box, without the need to unbolt it from the side, which is rather inconvenient.
INFORMATION AND DIRECTIONAL POSTS
Directional posts are an attractive complementation of signage. Free-standing, in well-exposed key spots, they facilitate spatial orientation. Directional boards placed on posts may be made in the shape determined by the client. Each post can hold several boards – way indicators, depending on the needs. We produce posts versions intended to the interiors and outdoors, standing on a stable pedestal, steel or concrete, and fixed to the ground. Plates are made of durable stiff aluminium-composite board.
BOARDS AND SIGN-BOARDS
Traditional boards and sign-boards do not have to be boring at all. It takes attractive graphics, well-selected colour range and out-of-the-ordinary shape, connected with spatial elements, to elicit aesthetic value from that typically informative form. Needless to mention that structures designed that way will also act as a specific company flagship, and at the same time will perform advertising function.
LETTERS AND SPATIAL ELEMENTS
Letters and spatial signs by Omega System were created as a supplement for exhibition stands, a diversifying element in offices and studies. They can be used to identify the entrance to the building or in any other way that is currently needed.
Spatial elements are made of plexiglass, styrodur, Dibond boards, PVC, laminates and others. Just a quick look at the materials shows their variety. They may be adapted to the needs of each place and project. In addition, there is an option to choose the size and colour of fonts, and even their thickness. All elements may be mounted on distance elements.
Our company provides complex services related to selection of proper additional elements. We will create – in cooperation with you – a design of an exposition or advertisement, we will polish its every detail and implement it with care for quality and good look.


ADMINISTRATION BOARDS AND HOUSE NUMBERS
The name of the street or house numbers, that are their basic signage, should be visible from a distance, facilitating finding the target point. Omega System is trying to meet those needs when offering boards with names and numbers in many variants, flat or three-dimensional, and even illuminated.