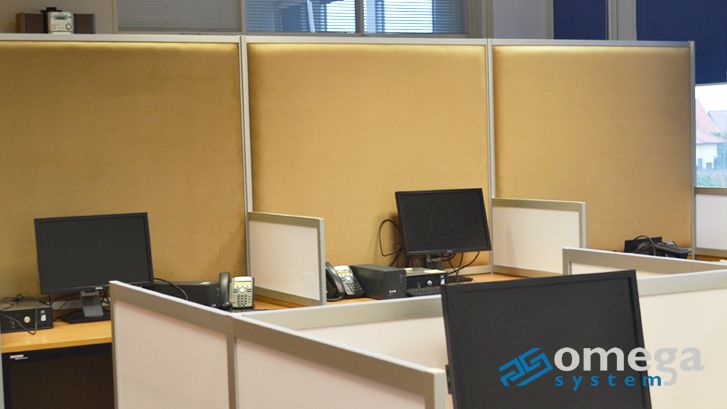 When designing an office, you must skilfully connect two rules – industrial safety rules and work comfort. Leaving enough space around the station, placing it the way so that the light does not shine straight into your eyes, and at the same time maintain a clear image on the monitor – these are just some of many guidelines that must be taken into consideration. A well-planned, ergonomic and functional work station guarantees safety, efficiency and good mood of workers.
In offices of open space type it is relatively easy to arrange the space to obtain optimum effect under the respective conditions. What is more, if the need be, it is possible to make a fast rearrangement – to maintain both intimate working conditions and also facilitate communication between workers. Omega System offers solutions that enable to plan such type of space functionally, using the highest quality materials at the same time.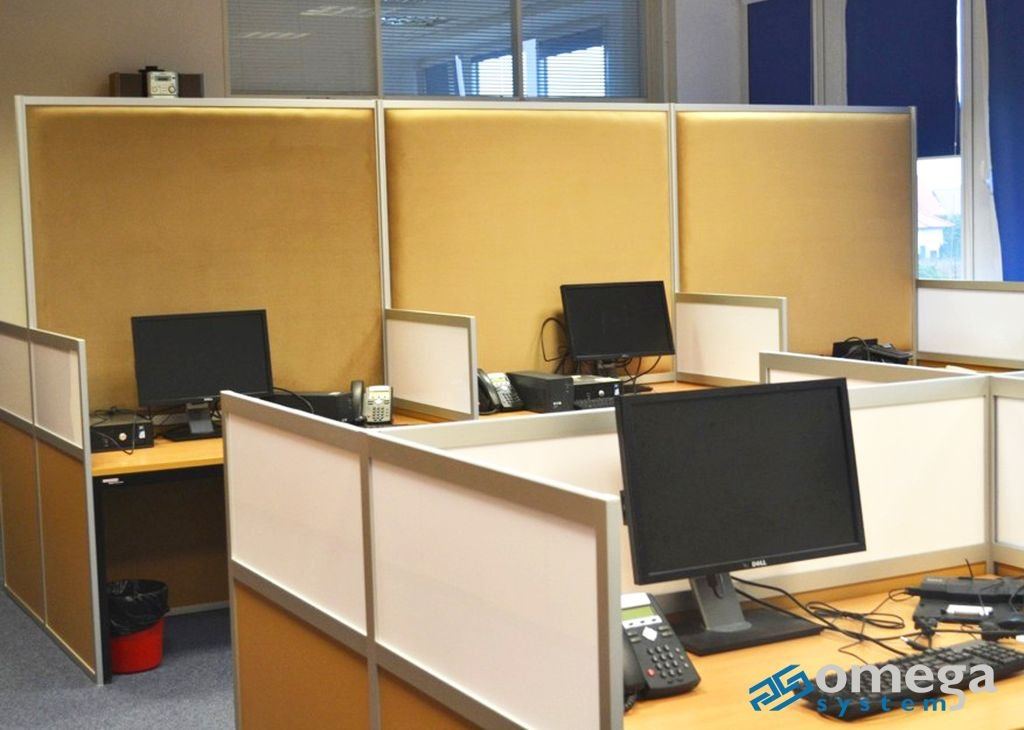 Our products are great both in large-area offices as well as in those where a few stations must be places on a small area. A good solution organising workplace are:
low and high walls,

cubicles,

top extensions on desks.
These elements perform the following functions:
they divide the space into individual, more intimate stations,

they divide organisational sectors,

they influence noise level reduction,

they can be used as information boards where you can attach so called "yellow post-it note pads".
For construction of walls, little walls, cubicles and top extensions on desks we use various materials, selecting them to the place, design and requirements of the customer. The most popular ones include:
various types of furniture board,

light plastic board,

upholstered board,

board filled with foam,

glass and plexiglass – where good visibility must be maintained, e.g. as the filler of upper parts of walls,

opal boards, translucent but not transparent,

fabric,

soundproof foam.

Omega System has innovative, copyright solutions for furnishing both small offices and 'open space' type areas. Our projects are implemented within the systems:
ECO Line – the lightest, most cost-saving solution;

ROUND Line – the most popular, using aesthetic, solid, round supporting profiles;

QUBE Line – profiles with possibility of application of various kinds of board, and also fabric and soundproof foam, connectors and hinges. It gives a lot of arrangement possibilities, which enables to create constructions that are maximally functional and at the same time good-looking. One of the applications is connecting elements into large series of uniform graphic surfaces.
Each of the specified solutions has many modification options, thanks to which they can be easily adapted to users' needs. All systems can be rearranged and modified in a short time and without extra expenditure.
Complementation of the offer for open space area is furniture and desks.