Show-cases and information boards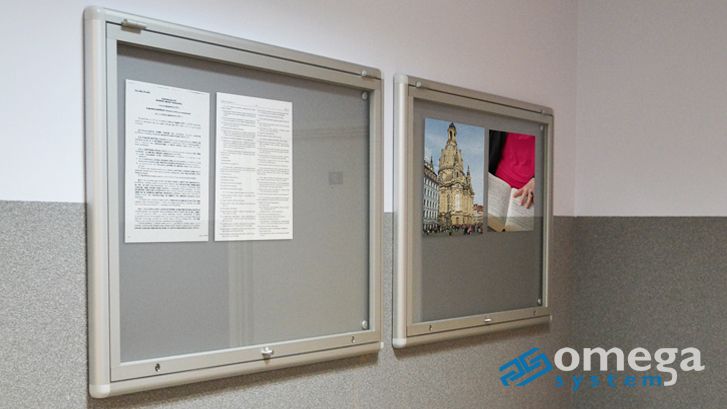 People, organisations, companies, institutions carry out permanent communication. Transfer of information is one of the most important tasks both in private and professional lives. Unlimited amount of information is circulating in the space in many forms and on various carriers. The Internet and multimedia revolutionised the way of communication, but they did not force out traditional methods, e.g. print.
Omega System unites traditional and modern way. We offer innovative, modern solutions in the forms of show-cases and information boards for presentation of printed information.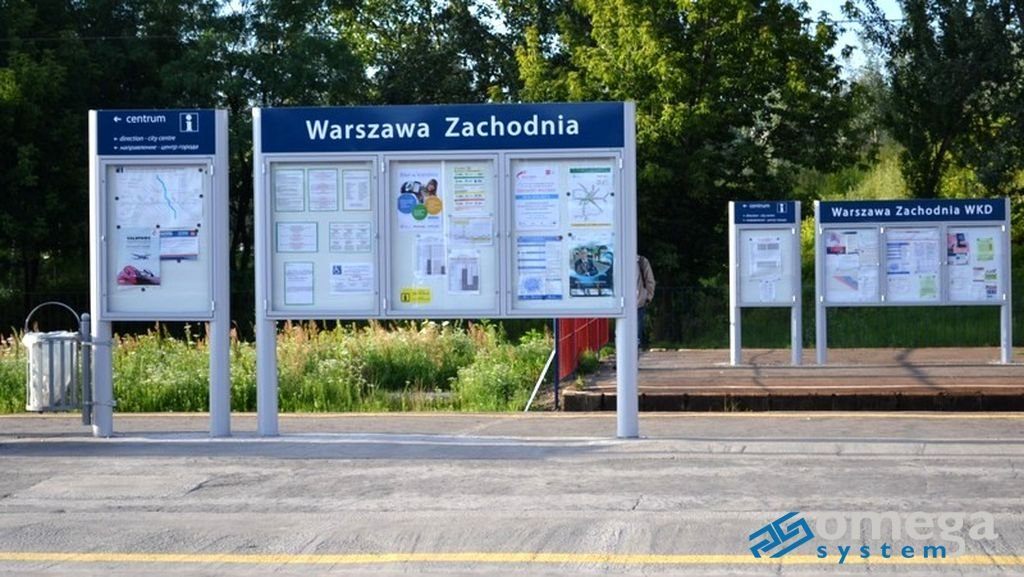 Omega System show-cases and information boards are made on the basis of aluminium profiles system and the best quality materials that guarantee good looks, functionality and safe usage. Show-cases are offered in hanging and standing version and are intended for indoor and outdoor presentations.
There are four visual and functional variants to choose from, that can easily be incorporated in the style and character of various types of rooms. In addition, each type of show-case can be made in a non-standard version, considering individual needs and requirements of the designer.
Omega SHARP Line
Show-cases are made of delicate and light profiles, ideal for production of frames also in smaller dimensions. Hinges are invisible, thanks to which the front of a show-case forms a uniform plane. Show-cases are shallow and due to that they take minimum space and can be used even in small rooms.

Omega SLIM Line
Simple, good-looking profiles with visually universal character are a typical feature of that type of show-cases. They are also a great solution for larger-size constructions. Their advantage is strong structure and corners connected at 45 degrees angle without application of plastic angle-beads.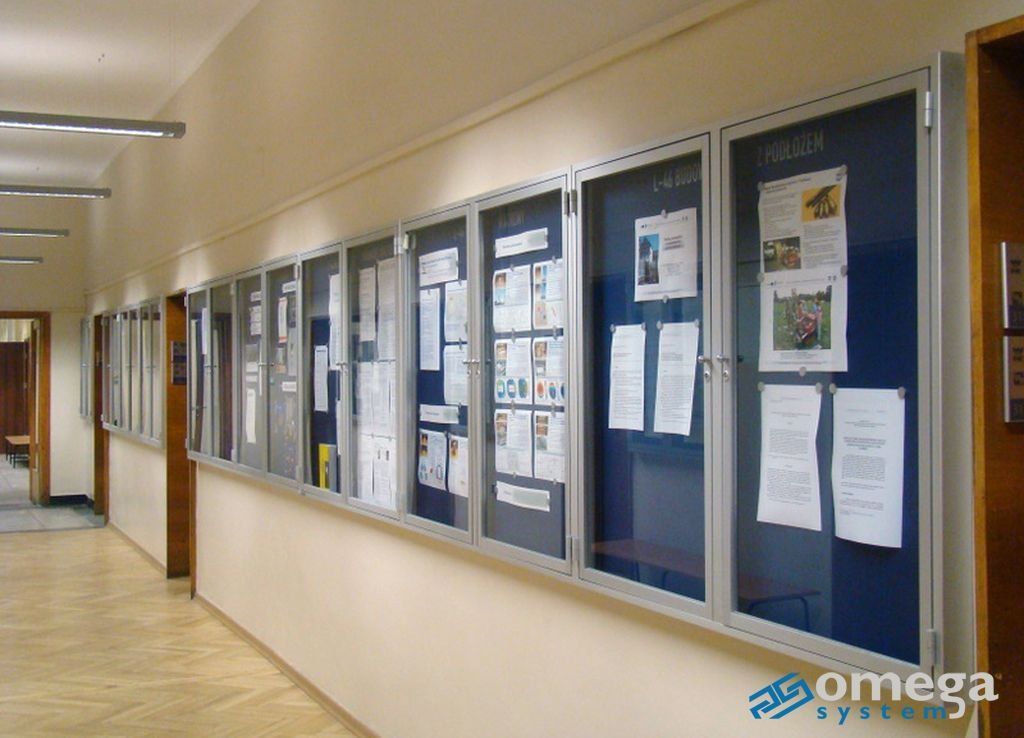 Omega OVAL Line
Frames of show-cases are made of elliptical profiles with elegant, eye-catching look. They are perfect for large rooms and open spaces.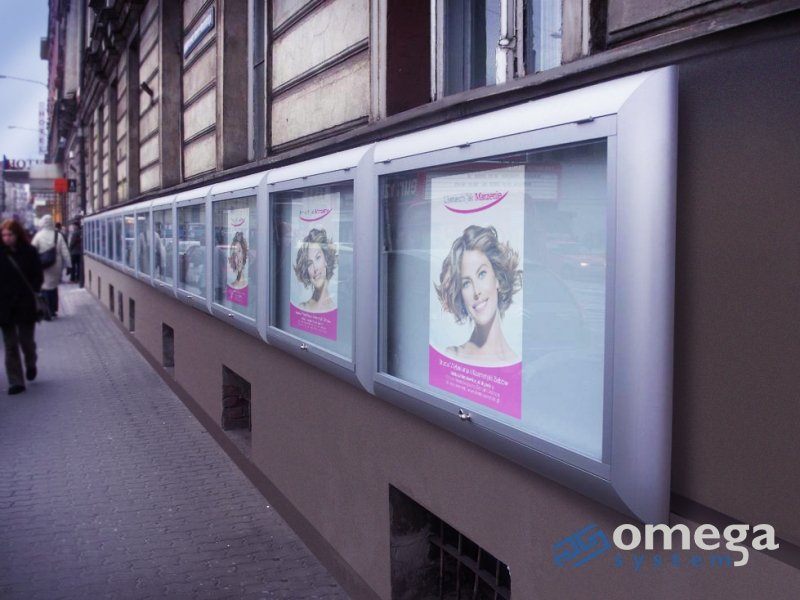 Omega CLASSIC Line
Show-cases are produced from universal, oval profiles. Their subtle and delicate shape makes them look good in virtually all rooms. Frame corners are made of plastic.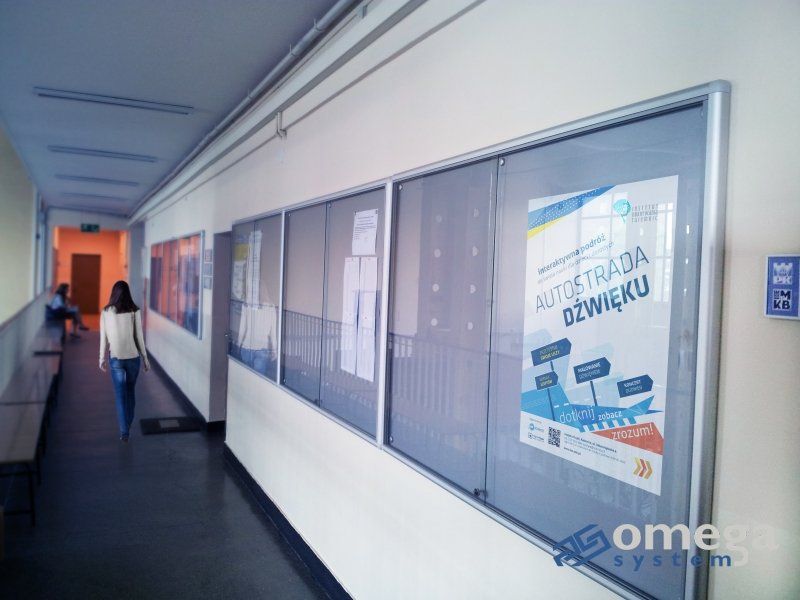 Depending on Customer's needs and the venue of the exposition, we create show-cases varied as far as their functionality is concerned. You can order show-cases with the following basic characteristics:
pane in frame raised upwards or opened to the side,

sliding panes on guide-rails or on carriage,

panes made of hardened glass or acrylic plexiglass,

back of show-case that is magnetic enables attachment of prints thanks to magnets,

back of show-case that is made of cork or lining – prints are attached with pins and thumb-tacks,

LED lighting.
Show-cases are made as a standard in a noble colour of anodized aluminium (silver mat), they may also be painted any uniform colour or painted so that they imitate wood or stone – in several variants.
Additional accessories include among other things:
gas springs (servo),
strips for prints attachment.
A wide range of information show-cases is completed with manufactured by Omega System boards with magnetic, cork or lining backs, and also show-cases with specific function:
key cases – with the number of hooks adjusted to the number of keys. A special type of that application is show-cases with double bottom, which enables to store more keys in a smaller space, or show-cases designed the way which limits the access to the keys to specific zones, available only to authorised users;

show-cases for banners – with standard or individually adapted handle for the flagpole;

show-cases for workers' cards – whose size and number of compartments is adapted to the needs of the workplace,

rotational information stands for prints for production halls, three- or four-wall,