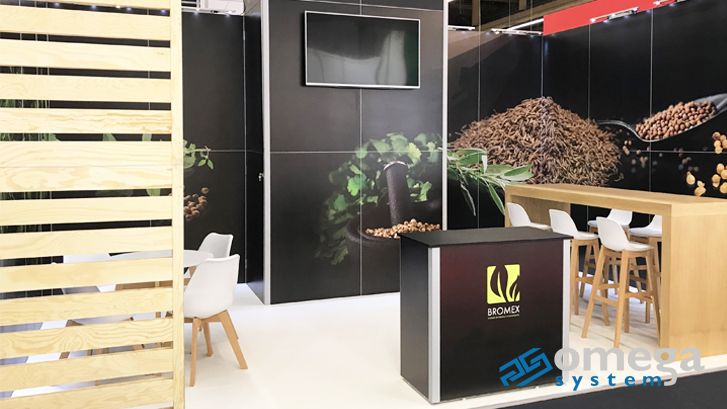 Today, it is not enough to contain the company within four walls and wait for customers to come. It is necessary to meet people halfway, to offer them your products and solutions directly. The best and most convenient option is to do that with application of a set of mobile stands by Omega System.
Our stands are solid, well-made mobile constructions that enable to transport and assemble the stand in a simple and quick way in any place. Advertisement, information, exhibition – Omega System stands can perform all those functions thanks to their variety and flexibility. On our walls and pylons you can put up presentative graphics, on counters you can place products for tasting, and on racks for leaflets you can place advertising material. When building our stand, we use selected by you pictures, photos and graphics, adapting our frames to necessary dimensions and layout.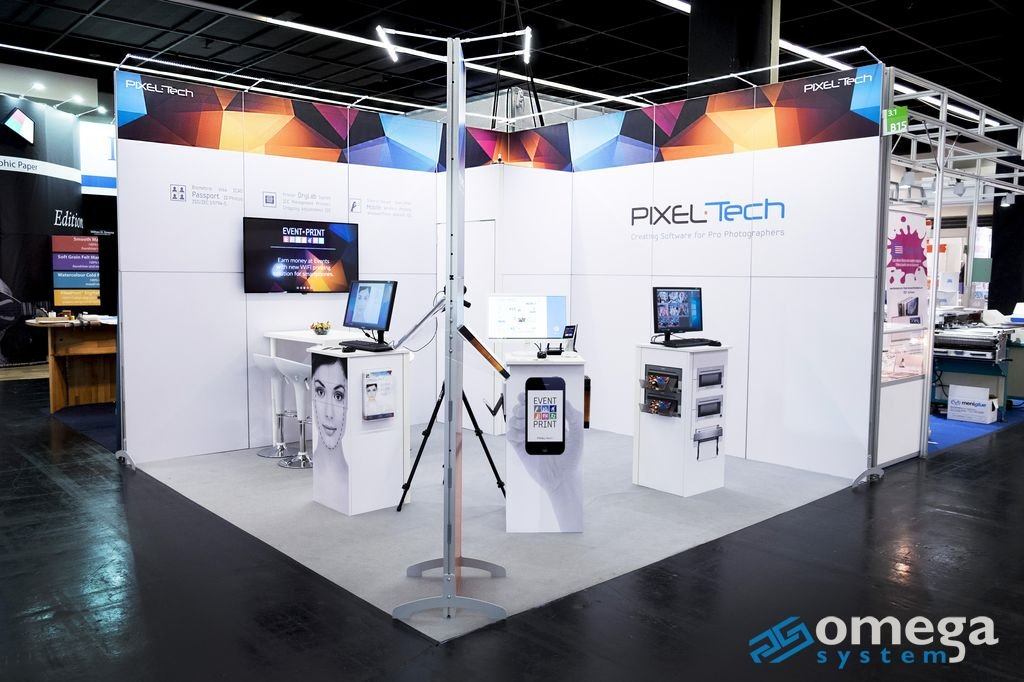 Omega System stands are made of aluminium profiles, anodized or powder-coated. All details regarding their appearance re individually arranged with clients.
The arrangement of the stand may be modified in many ways, and what's more – each time assembled differently – frames are made to be used many times, even after the change of the arrangement. We also offer realisations of large-size and out-of-standard shape type. We take materials of the best quality as priority. To meet customers' requirements, we select suitable LED or halogen lighting and colours.
MOBILE STANDS are mostly:
QUBE stands – they are perfect especially where reconfiguration and change of stand form is necessary; they are modular that can be arranged in many ways;

ECO stands – with application of hinge profiles, compact and extremely easy to assemble.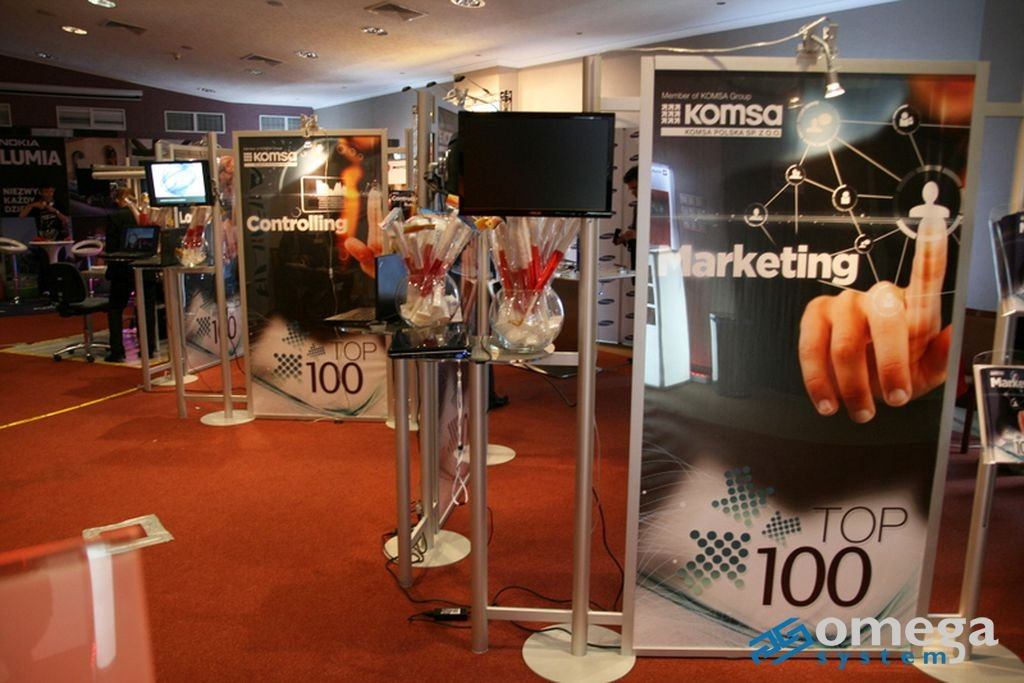 FAIR STANDS
Omega System offers complex servicing regarding preparation of fair stands. You tell us your concept, and we do the rest – we design, produce and assemble, in the place and time specified by you, standard or non-standard stands according to individual projects. We are fully aware how important it is for a company to make a good impression at a fair. Here, key element is the stand that must be perfected in any tiny detail. The highest quality, precision of workmanship and original design of our extraordinary constructions will make a perfect background for presentation of your company.
Omega System stands are built from aluminium profiles anodized to silver or any other colour from RAL palette. Thanks to their construction they can be used many times, and what is more – each time connected in other systems and configurations. That way they can be adapted to next fair or event in which you will be required to participate.
We use the best quality materials – furniture boards, plastics, hardened glass and others. We select proper colours and additional parts. Your stand may consist of show-cases, display-cases, bookshelves, we can add tops – straight or with non-typical shapes, and also pedestals for exposition of products. There is an option to install lighting or add logo or three-dimensional inscriptions. Racks for leaflets, information boards and decorative elements complete the whole thing.
Omega System fair stands are available in standard dimensions and formats, but there is always a possibility to select another option. We adapt our designs to our customers' needs and we make custom-made constructions, made-to-order.
Fair stands include most of all:
QUBE stands – they consist of compact frames, they are easy to transport, assemble, convenient to store. Their basic advantage is the possibility of various configurations, therefore they can be used many times in next events. Their assembly and disassembly is possible without tools;

ROUND stands – construction of those stands is based on a round profile that enables construction of solid sets of elements.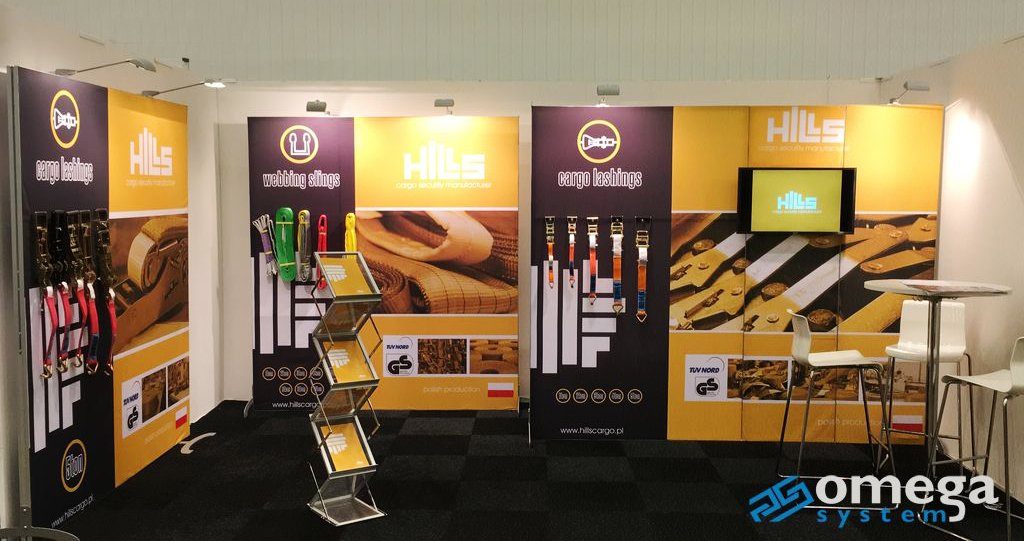 SHOP STALLS
Shop arrangement poses a great challenge, but it becomes simple when we have QUBE or ROUND system at disposal as well as a wide range of additional elements necessary for organisation of shop space. Aluminium frames with optional filler adapted to the vision of the designer enable to plan spatial organisation freely. Fillers include e.g. furniture boards, compact boards, PVC and boards with advertising prints or large formats, decorative graphics on fabric.
The planes may be used to make any configurations that will become walls dividing shop space into smaller rooms, determine the path to move along or will become support elements for goods – shelves, hangers, baskets for products. Frames may be used for building back rooms, and changing rooms with curtains.
A significant feature of our frames is the fact that they can be used for fast and easy construction of stalls, and, moreover, if the need be, they can be reconfigured without any extra costs.
Omega System also supplies additional shop equipment: full range of information racks for price-lists, posters or leaflets, frames-counters for advertising and informative graphics, logo and spatial elements, show-cases and others.

SHOP-IN-SHOP
Thanks to aluminium systems by Omega System, inside large shops you can designate smaller ones, dedicated information stands or sales points with temporary or permanent character. It is a perfect solution in shopping malls, shops with a large area or market halls.
Compact construction of our systems gives huge possibilities of modification, ensures easy assembly and transport, and what follows – huge savings. Graphics is exchangeable, thanks to which it can be each time adapted to the character of the room or features of each new promotion. Each stand is independent, it may be equipped with its own power line, its own lighting, multimedia elements etc.